Hey everyone!
So, how many blog posts have you read so far about looking back at the last year, or about resolutions for this year? A lot, I'm sure. I just caught up on my blog reading, and about 95% of those blogs had a similar theme. It's so fun reading about everyone's successes in the past year, and their hopes for the new year!
I'm going to split it up over the next few days, since I don't want to overwhelm my poor readers with one giant blog post! And I figured the best way to start is small, so before I talk about New Year's resolutions for the coming year, I figure it's best to lay out goals for this month.
You might remember my post at the beginning of December detailing goals for December. If you don't, or need a reminder, you can see it here:
Goals for a Busy December
1.
Go on at least one date with my boyfriend
Success!
(Got in two dates! Woo!)
2. Finish a blog post reviewing the Nintendo 3DS
Fail!
(Whoops! I actually completely forgot about this.)
3.
Get Christmas cards made for my family/Zach's family
Success!
(Everyone seemed to really like it too. Yay!)
4.
Get Christmas gifts bought for everyone on my list
Success!
(Really proud of myself for this one!)
5. Write a poem
Fail!
(I forgot about this one too. Oh well, there's always next month.)
6. Exercise/Get down to mini-goal weight before Christmas Eve
Fail!
(So many sweets during December. So. Many. Sweets.)
7.
Buy a black dress for Christmas Eve
Success!
(Done! It was cheap and simple, but it turned out perfect.)
8.
Make a blog post at least twice a week
Success!
(Now let's hope this continues.)
9.
Finish the homemade Christmas gift for the boyfriend
Success!
(After about a year planning, it's done!)
10.
Finish Assassins Creed IV: Black Flag
Success!
(Managed to finish only a few days ago, but it got done!)
Over all, not too bad! Mostly, I forgot about the ones I failed, since it was such a busy month. But really, the whole exercise/lose weight thing was doomed to fail. With barely any free time this month, plus losing the only thing I had to exercise with early on in the month, and then adding all the sweets from my birthday and my mom's birthday into the equation, it was impossible.
But now it's a new year, and I'm determined to do better! So without further ado:
1. Lose 2 lbs. I'm hoping if I lose 2 lbs a month, I'll be down to my goal weight by July/August.
2. Finish reading Silence by Becca Fitzpatrick. (Been renewing it repeatedly from the library for the past month with no progress.)
3. Save $30 for Anime Iowa.
4. Figure out how to style my new corset with an outfit.
5. Finish the DLC for Mass Effect 3 and Dishonored.
6. Alter my armoire to fit my Xbox One inside, with my Xbox 360.
7. Start The Legend of Zelda: A Link Between Worlds.
8. Buy more Essie nail polish. (Seriously in
love
with this brand now.)
9. No fast food at all! (except an occasional healthy, veggie-filled sandwich from Subway.)
10. Buy a sweater for my other puppy, Meeko. He always seems so cold (and jealous of his sister's sweater!)
Honestly, I'm not too hopeful about getting all these things done before January reaches its end. But as long as I finish 1, 2, and 3, I'll be satisfied. Especially number 1. Wish me luck!
I'll be back tomorrow to talk about 2013 coming to a close, so watch for that! Be sure to join the Monthly Goals blog hop too and let me know you did so I can check your blog post out!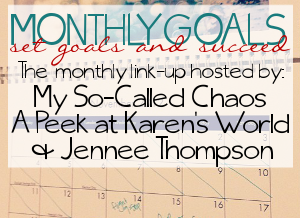 What are your short-term goals for January? Let me know in the comments below!